Recently, the well-known Australian TV Show A Current Affair (ACA) broadcasted the report Surgery breakthrough on stem cell breast augmentation.
While Australian physicians seem to make their first tentative steps with this method, our Clinic DDr. Heinrich® can meanwhile look back on more than 5 years of experience that enabled DDr. Heinrich and his team to significantly improve durability and compatibility of the results. The original form of autologous fat transfer without stem cell enrichment has already been offered by us for nearly 20 years.
Almost all our patients are completely satisfied and delighted by their natural breast augmentation without silicone and other artificial, exogenous fillers.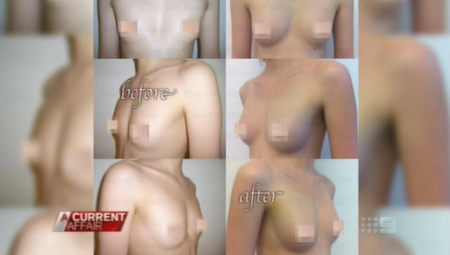 In order to provide all TV viewers with the opportunity to convince themselves about the naturalness of the results, ACA presented several pictures of patients treated in our Clinic DDr. Heinrich® (e.g. image shows our patient 26 from our treatment photo gallery).
We are delighted and honored!
Schedule appointment or Skype information now
One comment