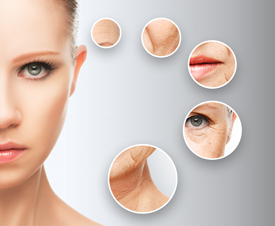 Body fat is the fundamental "component" to regenerate face and skin and to stimulate the growth of hair in a natural way. This remarkable regenerative potential is due to the stem cells that are contained in fat tissue. Depending on type and goal of the treatment we either use your own fat or stem cells extracted therefrom; combinations of both are possible as well.
Treatments with the Body's Own Resources
Treatments using your own body fat or stem cells are especially suited for facial rejuvenation, wrinkle treatment, and for correcting volume deficiencies and bumps and dents in the thighs, buttocks, belly, and other regions of the body. Hands and cleavages can also be visibly rejuvenated.
Sparse hair can also be stimulated to renewed growth with stem cells. The procedure is especially recommended for treating regions where there is still some hair growth.
Regeneration and Rejuvenation by Using the Body's Potential
The stem cell facelift performed by DDr. Heinrich has worked very well with me. Since then I have been constantly asked about my relaxed and younger look and I really enjoy it.
Stem cells are extracted from the patient's own fat. After undergoing special preparation, they are then used for regeneration of subcutaneous tissue of face and body. In contrast to all other fillers, stem cells exert a powerful rejuvenating and regenerative effect on the treated areas.
Lost volume on the chin line, the eye area, or on any other site of the body is gently restored with body fat (so-called "lipofilling" or "autologous fat transfer"). Compared to synthetic fillers such as silicone, a treatment with your own fat assures you that the material being used is 100 % natural.

The after photo shows the result actually achieved by the treatment. To protect the anonymity of the depicted person individual physical characteristics (e.g., moles, tattoos) might have been removed.
Treatments for rejuvenation of the face can also be combined with facial liposculpture. We use special facial microcannulas for liposuction to remodel the fat pads around cheeks, neck, and chin (e.g., double chin). Subsequently, we improve the appearance of the face by forming it with stem-cell enriched autologous fat or by evening out irregularities, depending on the indication. A significant rejuvenation and firmness in the cheek and neck area instead of a dollish, unnatural facial expression can be expected as the final result. Since stem cells develop into mature, viable fat and skin cells, the biggest benefit of your body's own fat is its better durability.
As a supplement or alternative, we recommend generally regenerating treatments to our patients, such as Hormonal Regeneration® by DDr. Heinrich.