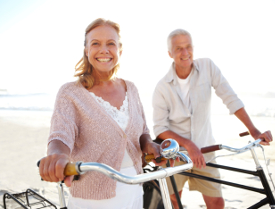 Keeping health and vitality even when growing older as in the legendary Golden Age is a dream that unites all humans. Modern medicine has taken a significant step towards this goal.
Novel Therapeutic Approaches of Regenerative Medicine
Regenerative medicine encompasses a variety of different medical treatments for rejuvenation and regeneration of the body through restoration of dysfunctional cells and by stimulating the body's own capacity of regeneration and repair.
Regenerative treatment methods belong to the most promising fields of medical science worldwide. Regeneration from within, on a cellular level, should result in better health, more vitality, and real rejuvenation.
Hence the aims and indications for regenerative therapies are very multifaceted and range from purely visual improvements to novel therapeutical approaches for previously untreatable diseases. Regeneratin should be reflected in an improvement of aged bodily features.
I wanted to have firmer skin, not just on my face, but also on my entire body. The wrinkles around my mouth and eyes bothered me and I wanted to feel better as a whole. The Hormonal Regeneration firmed up my face and augmented my breasts. I didn't have any side effects at all, nor any "off days". The medications that I'm taking are evidently just right. I'm sleeping well, I'm happier, and I look younger. I haven't felt this good in a long time.
Prevention and Healing Potential
Regenerative treatments help in prevention of disease, as the more durable and resistant our body is, the lower will be its susceptibility to disease. Regenerative therapies will also support in recovery from disease by strengthening the body and supplementing or even replacing traditional medical treatments by novel therapeutical approaches.
The body's own stem cells and bioidentical hormones hold the potential for targeted regeneration and general rejuvenation of our body. Because of different mechanisms stem cells and bioidentical hormones complement each other and should therefore be synergistically combined. Infusions and biomolecular therapies tailored to your specific needs, assist in the recovery of well-being. These physical vitality- and vigor-enhancing treatments often promote fertility as well.
When Do You Need a Regenerative Therapy?
Giving individual recommendations is only possible after a detailed anamnesis and medical examination have been performed. Individual circumstances, medical history, as well as genetic predisposition provide the foundation for a sound treatment plan.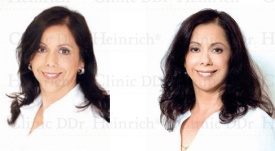 The after photo shows the result actually achieved by the treatment. To protect the anonymity of the depicted person individual physical characteristics (e.g., moles, tattoos) might have been removed.
In case of suffering from an illness that cannot be treated by conventional methods, regenerative therapies can open up additional treatment options. Such novel approaches will never be a panacea but will be able to give hope to patients that previously did not have any treatment to choose.

In certain diseases, for which therapies are already available, regenerative medicine may supplement these existing treatments or partially replace them (e.g., osteoarthritis).

If you are healthy, but less powerful and vital, regenerative therapies offer well-proven as well as new treatment options. We invite you to estimate your level of well-being. In self-critical reflection you may notice changes of your own performance, visual appearance, and zest for life. We kindly ask you to evaluate the statements listed in the table below. If three or more statements apply to you, regenerative therapies might be suitable to improve your health and well-being.
Her
Him
I often feel exhausted and tired and it is hard for me to recover.
I socially withdraw and avoid activities that I enjoyed in the past.
I am very irritable.
My tissue is sagging, I have more cellulite and I am getting wrinkles.
I am over 35 years old.
I gain weight much faster than some years ago.
Although I eat little, I am hardly losing weight.
My cheeks are getting hollow or slack.
My skin has become drier and thinner.
I have much less desire for sex.
My hair is thinning.
I am getting wrinkles.
I am over 40 years old.
I am significantly less resilient than before when doing sports.
It takes me longer to recover from partying all night than it did before.
I am no longer able to sexually perform as well as some years ago.
I gain weight much faster than some years ago.
I often feel exhausted and tired and it is hard for me to recover.
I socially withdraw and avoid activities that I enjoyed in the past.