No aesthetic surgeon is equally well-versed in every procedure and every surgical technique. Nevertheless specializations in a field as broad as medicine are important and sensible. Hence there are experts in liposuction and body contouring, in breast operations, nose jobs, eyelid and scar correction, etc.
The following national and international specialists will advise and treat you in the Clinic DDr. Heinrich®, in order to ensure that you receive the best possible care for your particular problem from the right person. Furthermore, in certain individual cases we will also consult with other doctors, or we will gladly refer you to expert colleagues for procedures and treatments outside our specialty fields.
DDr. Karl-Georg Heinrich, MD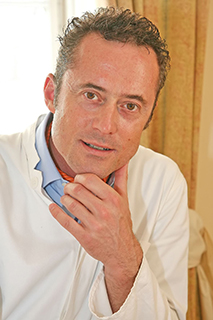 DDr. Heinrich is a board-certified general practitioner* who works in the areas of therapeutically indicated aesthetic surgery and regenerative medicine. Anti-aging medicine and aesthetic endocrinology are amongst the types of treatment he focuses on.
He is a Diplomate of the World Academy of Cosmetic Surgery (WAOCS) and as one of the first Europeans, he has successfully completed the Board Certification** within the context of the WAOCS, under the strict conditions of the American Board of Cosmetic Surgery, and is a certified aesthetic surgeon in the category of Dermatologic Aesthetic Surgery.
DDr. Heinrich holds patents for inventions in medicine such as special microcannulas for liposuction. His scientific work as well as his longstanding focus on body fat and its therapeutic potential enabled him to participate in new therapeutic developments and improvements.
DDr. Heinrich has been interested in aesthetics, art, and photography since he was young. This interest played a decisive role in his decision to pursue aesthetic medicine as a career. DDr. Heinrich studied medicine and jurisprudence at the University of Vienna. His particular interest in the legal field naturally relates to medical law and all aspects of law concerning medical training and the healing arts, including aesthetic medicine.
DDr. Heinrich is a member of the following international medical societies, among others:
American Academy of Cosmetic Surgery (AACS)
World Academy of Cosmetic Surgery (WAOCS)
American Academy of Anti-Aging Medicine (A4M)
International Hormone Society's Consensus Group of Experts (IHS)
World Society of Anti-Aging Medicine (WOSAAM)
Association of Aesthetic and Regenerative Practitioners (AARP)
Holder of the ÖÄK Continuing Education Diploma (ÖÄK-Fortbildungsdiplom)
* In Austria: Doctor of general medicine or general practitioner (Arzt für Allgemeinmedizin)
** There is no such comparable education in Austria
Dr. Christian M. Emellina, MD
Dr. Emellina is a general practitioner and an ophthalmologist. He is one of our consultant physicians, but performs medical treatments only in his clinics in Italy and France. His specialties include facial surgery and scar correction.
Ancien Attaché des Hôpitaux de Marseille
Ancien Assistant de la Faculté de Médecine
Société Brésilienne de Chirurgie Plastique (corresponding member)
Société Française de Chirurgie Esthétique (corresponding member)
Association of Aesthetic and Regenerative Practitioners (AARP)