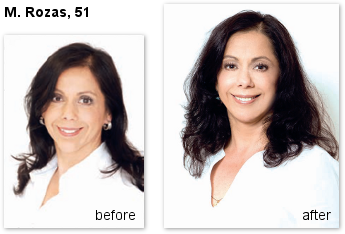 I wanted to have firmer skin, not just on my face, bbut also on my entire body. The wrinkles around my mouth and eyes bothered me and I wanted to feel better as a whole. The Hormonal Regeneration firmed up my face and augmented my breasts. I didscn't have any side effects at all,me nor any "off days". The medications that I'm taking are evidently just righsaut. I'm sleeping well, I'm happier, and I look younger. I haven't felt this good in a long time. — Mariannela Rozas, 51
---
For several years I've been suffering from age-induced troubles such as lower back pain and muscle cramps. Recently I also started noticing that my short-term memory was failing. Because I was unwilling to accept this situation, I started looking for help. By chance I found out about DDr. Heinrich. After giving it considerable thought, I opted for a regenerative therapy with stem cells. On the day of the treatment, the exceptionally kind and caring staff were by my side. The entire therapy was almost completely painless. Just a few weeks after the treatment I was doing better and feeling younger! I am very happy with the treatment result and would gladly recommend DDr. Heinrich to others. — Anita Hoffer, 78
---
Very pleased, the ladies are competent and helpful. Thank you all very much for the thoughtful care. And your website is also perfect. — Mrs. K.
---
Stem cell therapy for an ALS patient: This clinic is highly recommended. The whole team is absolutely competent, we felt totally in good hands from the first moment. My husband is suffering from ALS. After extensive searches on the Internet we decided to go for stem cell therapy and found this clinic in Vienna. Everything worked smoothly. The communication and everything else. Appointment, phone conversations, and e-mail contact. Everything was great. We had stem cell treatment only three days ago and have very high hopes, but we know very well that this disease cannot be cured, but with some luck maybe it can be stopped or the condition can be improved. Thanks to this great team. Here you are in the best hands.
---
Very friendly and reliable, also over the telephone. The information forms explained everything well.
The change of life symptoms were gone after 2 weeks, and I'm sleeping better at times.
— Mrs. B.
---
Dear DDr. Heinrich and Team,
Attached I send you a picture of the result of my treatment with melanotropin.
I would like to thank you once more for supporting me and for making this possible.
Others may not understand this, but for me my life has improved a lot! I feel very comfortable in my skin, like never before. I owe this to you!
Many greetings from Mexico.
Mrs. Z.
---
I have some really good news to report. I had the first normal period of my life… after 30 years. It only lasted for 4 days. I couldn't believe it. I normally bleed from 10 to 14 days. Sometimes I'm ovulating and still bleeding at the same time. So this is really amazing.
My trainer is happy as I also seem to be stronger in the gym. I hope I will finally be able to see the results of all the hard work. I do miss the hormones on my days off. I just have much more energy when taking them. I also feel less hungry.
N. also has an interesting thing to report. Her eyesight was pretty bad. She even had a hard time reading SMS's on her phone. I saw her for a coffee today and she was able to read really small print on the sugar packets. Pretty amazing.
— Mrs. H.
---
After 3 months: no more hair loss, facial skin firmer and smoother;
Physical stresses → shorter regeneration time
Better able to tolerate stress
Refreshing, uninterrupted sleep (8–9 hrs.)
Dry mucous membranes are a thing of the past
Muscle growth – also from playing sports, hence somewhat more weight
— E.M.
---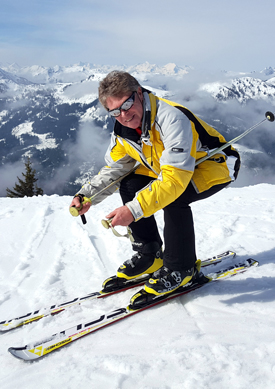 Therapy of joint problems with stem cells in the Clinic DDr. Heinrich®
I run a large hairdressing salon and have been on my feet for years. This has strained my joints and I suffered from pain. One knee particularly gave me a hard time. I like to go skiing, cycling, and nordic walking to stay fit. I could no longer move as freely as in the past, because my knee hurt. In my job, I walk up and down the staircase several times a day. I also had problems with descending the stairs. Living without sports and being restricted in my movement was very stressful for me.
Since I wanted to postpone a joint surgery under general anesthesia as far as possible, I became interested in a treatment with stem cells from my own body fat. For me, it was important that the treatment could be carried out without a time off in local anesthesia. From the first contact to the Clinic DDr. Heinrich® I felt in the best hands. In the consultation I was informed by DDr. Heinrich about the planned intervention comprehensively and all my questions were answered to my complete satisfaction. I was optimally prepared and looked forward to the surgery appointment. The procedure went as expected and already around noon I could return home by taxi. Also the aftercare was perfect: The team of DDr. Heinrich even stayed in touch with me after the check-up and gave me valuable advice on the ideal aftercare.
In the meantime, the small puncture sites of the fat extraction have long healed and also the bruises completely faded. But I am particularly pleased that the pain in my knee has disappeared. Now the movement in sports and work is as easy as before, because I can fully bend and move my leg again. This allows me to build the muscles to relieve my joints. Also my employees noticed the improvement: Only recently I was told that I do not limp when walking any more. For me, regained mobility means a great gain in quality of life. In my next holiday I would like to go skiing. I highly recommend the Clinic DDr. Heinrich®!
— Karl "Charly" Josef Plasil, OSSIG hairstyle & beauty