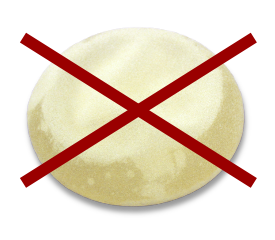 We are regularly consulted by patients who are dissatisfied with their silicone implants and who are suffering discomfort. They find the feeling of having a foreign body implanted in them to be unpleasant or they suffer from complications such as capsule fibrosis. Since the PIP scandal (low-grade industrial silicone was used for implants) an increasing number of patients are questioning the health risks associated with silicone and doubt whether silicone is completely safe. Body fat as a natural filler allows for a natural breast augmentation after implant removal.
Procedure of Breast Reconstruction with Autologous Fat
Some patients approach us after their silicone implants have already been removed, whilst others consult us beforehand to coordinate the treatment plan with us from the beginning. Basically there are two possible procedures: Mostly a breast reconstruction with autologous fat is done several months after the removal of silicone implants, as soon as the healing process after the implant removal is finished. According to experience this recovery process takes approx. 3 to 4 months. As an alternative, but only under certain specific conditions, it is possible to carry out the removal of the silicone implants together with the breast reconstruction within a single surgery appointment.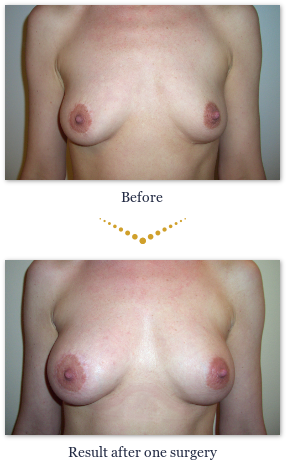 The after photo shows the result actually achieved by the treatment. To protect the anonymity of the depicted person individual physical characteristics (e.g., moles, tattoos) might have been removed.
If the silicone implants have been removed beforehand the breast reconstruction with autologous fat takes place under local anesthesia in the course of an outpatient procedure, taking 3 to 5 hours. If the implants should be taken out immediately prior to breast reconstruction with the body's own fat, the procedure takes longer and is mostly performed under twilight sleep.
In order to obtain autologous fat as filling material, which is needed for the actual breast reconstruction, liposuction has to be performed (optionally with microcannulas or regular cannulas). In this special method of liposuction called liposculpture fat deposits are harvested in tissue-conserving manual work and thereby shaped. We unexceptionally waive the usage of suction devices and scalpels in order to make the procedure as gentle to the body as possible. The body fat harvested this way is either prepared additionally by means of stem cell enrichment or stem cell concentration and afterwards injected into the breasts, or directly implanted without a further intermediate step. The patient decides which method of fat preparation will be used.
Sometimes patients complain about existing silicone implants because their shape becomes apparent on the skin. If the patient doesn't wish for an implant removal, autologous fat can also be used for the formation of additional breast tissue between the skin and the implant.
Regained Natural Breast
The result of a breast reconstruction with autologous fat impresses with its naturalness. Since the additional volume consists exclusively of your body's own "material", the augmented breast feels absolutely "real" and looks natural in any posture, whether you are at rest or moving. Additionally, the local rejuvenating effect of the stem cells often gives the breasts a younger, firmer, and more toned appearance.
In the scope of a breast augmentation anywhere from approx. one half to two cup sizes is achievable. An increase of one cup size is typical. The injection needle prick sites are similar to those for drawing blood and heal without leaving scars. If the breast reconstruction is done with stem cell-enriched autologous fat most of the volume generally retains, whereas in case of standard lipotransfer refreshments are often necessary.
The Time after Procedure
I decided to undergo stem cell breast augmentation after implant removal. The result cannot be compared with those of breast augmentation with silicone implants. If I would not know what has been done I would believe that my breast had grown that way!
Like in breast augmentation with autologous fat the aftercare effort is relatively straightforward: The night after the procedure you have to wear a bandage, afterwards compression garments (depending on the type of liposuction cannulas used either 1 week or 6 to 8 weeks). A sports bra has to be worn for about 4 weeks.
After breast reconstruction with autologous fat you are normally already able to work 2 to 3 days after the procedure. In the first few weeks after the procedure it is important to avoid abrupt movements or lifting heavy weights (e.g., carrying heavy bags, certain types of sports such as breaststroke, tennis, etc.). We support you during the recovery process and make individual recommendations on the aftercare.