During ball season, cleavage, upper arms, face and hands become the focus of attention. What can a woman do to give her skin new vitality and freshness at the "last minute"? We offer particularly gentle outpatient treatments and products for skin rejuvenation in our Clinic DDr. Heinrich®:
Skin rejuvenation with growth factors and
stem cells from fat
In mesotherapy with growth factors, smallest amounts of particular growth factors are injected into the skin with microinjections in an almost pain-free way. This is where the growth factors develop their regenerative effect and rejuvenate and tighten the skin. Further effects beyond that facilitate a skin treatment with stem cells from autologous fat.
Treatment duration:
Growth factors: 30 minutes to 1 hour
Stem cells: 30 minutes to 3 hours
Skin rejuvenation with platelet-rich plasma (PRP)
Platelet-rich plasma (PRP) is particularly suitable for local skin rejuvenation of the face and body. The PRP, extracted from a small amount of your own blood, is injected into the skin through micro-needle mesotherapy, where it supports the body's natural skin rejuvenation and quickly restores radiant vital looks.
Treatment duration: 30 minutes to 1 hour
Fat-away injection (injection lipolysis) and
microcannular liposuction
The fat-away injection (injection lipolysis) is suitable for removing smaller fat pads in the face (i.e., double chin, tear sacks) as well as on the body. Local fat pads are forced to regress by injecting a natural fat-dissolving substance. For optimal results, two treatments are required in most cases. Cellulite treatment is also possible. For the gentle shaping of larger fat pads, microcannular liposuction can be performed.
Treatment duration:
Fat-away injection: 30 minutes to 90 minutes
Liposuction: 30 minutes to 3 hours
Skin rejuvenation with bioidentical hormones
Hormonal Regeneration by DDr. Heinrich® strengthens skin and body from the inside out. In the scope of an individually designed therapy, hormonal balance is restored with bioidentical hormones. After a short time, the appearance of the skin already improves considerably – it appears fresher, firmer, and radiates vitality. This treatment is ideal in combination with platelet-rich plasma, growth factors, or a stem cell treatment for skin rejuvenation.
Duration of therapy: Individually dependent, mostly 3 to 6 cycles (1 cycle = 28 days)
Perfect Skin – Cosmetics from the inside out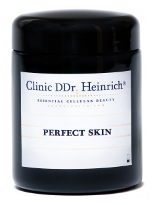 Effective skin care is essential for beautiful skin. While the active ingredients of conventional creams, serums and oils are not able to enter into the deeper layers of the skin, Perfect Skin rejuvenates facial and body skin from the inside out!
Perfect Skin contains an optimal form of amino acids and peptides which our skin needs to build a healthy and youthful structure. When applied on a regular basis, subcutaneous tissue can be regenerated and a reduction of wrinkles can be achieved.
Place your order for Perfect Skin via our web shop right now from the comfort of your own home.
My team and I wish you a glamorous ball season,
DDr. Heinrich, MD