Way to the Clinic
Hi. I am a 35 year old Scandinavian woman who very much desired a natural breast augmentation. My breasts were always small and had become smaller after weight loss. I strongly wished my breasts to increase volume and become more proportionate/harmonious with my other body proportions, but I am the kind of person who would not feel comfortable with any foreign element in my body such as silicone. A scar-free natural breast enlargement was the only perfect way for me.
However, I wasn't overweight at all so I was very nervous about disfiguration. To me, changing my shape is an extraordinarily delicate matter and I hadn't received any cosmetic procedure prior to this. Working with shapes, I have a perfectionist eye for forms and details. First of all, I didn't want to risk my health so I was very concerned with the safety and overall health matters regarding breast augmentation procedures.
Prior to making the decision I investigated into the area for 6 months. My internet research included Japan, the US, and Europe, and I had consultations with various recognized doctors and plastic surgeons in my country.
There were various reasons which led me to choose Dr. Heinrich to perform the breast enlargement procedure, such as the results, experience, and responses of the clinic. One other very important factor was the specific procedure and the use of DDr Heinrich's microcannulas – it was essential to my choice of receiving the breast enlargement procedure that I could minimize any marks and avoid permanent signs, disfiguration, or scarring.
After the satisfying responses to all my questions, I was indeed very pleased with DDr. Heinrich's team and more than ready to go to Vienna!
Surgery & Service
In short, everything regarding the surgery (and the time after the surgery) was the way it had been described to me before my arrival, only better. I trusted the doctor and found him to be very professional and sympathetic, all the staff was very friendly and the environment was pleasant. I felt safe, in the best hands during my entire stay.
I knew that the day of the procedure would be exhausting to my body (I was actually expecting this to be worse) and that I might feel some pain during the surgery, though I didn't know that I would be surrounded by such a kind and likeable staff. I was very pleased and am grateful to all. The doctor and his assistants did an amazing job. The caring nurse who was by my side all day is simply the best nurse ever! The whole staff was very professional and friendly. The service is excellent.
Time after the Surgery & Result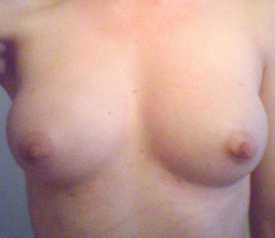 I was amazed that I didn't experience more pain than I did. I took 1 pain killer before going to sleep the first night after the surgery, that's all. I felt fine all the way. I could immediately walk and sit without problems. I have had no complications in the recovery process.
Of course, one should be prepared to see the body surface looking "damaged" at first, that's only natural, and I think I'm recovering quickly. I have been relaxing more and take care to only carry little weight. After 1 month, I only have the red spots left, and they continue to heal.
The liposuctioned parts feel fine. I can still feel a little pain if I massage the muscles rather harshly, though nothing unpleasant. Very rarely, I feel a momentary sensation of pain somewhere.
After 1 month my breasts are beautiful, looking and feeling soft and completely natural. I am very pleased with the result. I am very happy and feel excellent about my enhanced breasts. Entirely mine. Dr. Heinrich in addition managed to even out the small difference in size which my breasts had before.
DDr. Heinrich and his staff have all the way been very informative and realistic, both regarding the preparation, the procedure, the recovery, and the result, so I was well-prepared all the way.
I think this is the easiest and most natural way of receiving a breast augmentation today, and I indeed recommend DDr. Heinrich.
Best regards, K. K.